InFoRm performance management
InFoRm performance management
Drive growth and success with strategic goal setting!
Clearly defined strategic and operational goals , continuous monitoring and review of performance, with regular assessment and development of competences , whilst informing and supporting colleagues throughout the year – in summary a well-structured performance management – are essential for success.
How is that gonna be easy?
Learn about the benefits of using our simple and straightforward system , designed and continuously improved based on many years of management experience.

Objectives & Key Results
• Set strategic or personal Goals, Objectives and KPI-s
• Qualitative and quantitative evaluation with self-assessment
• Native authority management
• Role-based availability of functions and display of relevant information
• Team management dashboard for overview and also for 1-1-s
• Status tracking and full history
• Supporting planning and evaluation with saving drafts
Competence assessment
• Freely definable competences assigned to jobs
• Reviewers can be set directly by the manager and HR
• Overview dashboards and drill-down possibilities
• Comparison with previous/peer assessments
• Status tracking and full history
• Values can be saved as a draft during the evaluation
Organizational chart
• Overview of teams and goals
• Public and Private data registry
• Public profile with deep insights for all colleagues
• Searchable overview table
• Private view for HR with confidential employee data
Technical information
Convenient use from any smart device
Tailored to your company's needs
Modular architecture
Self-Hosted or Software-as-a-Service
E-mail notification possibility
Multilingual support
Normal and dark theme, separate test mode
Pricing information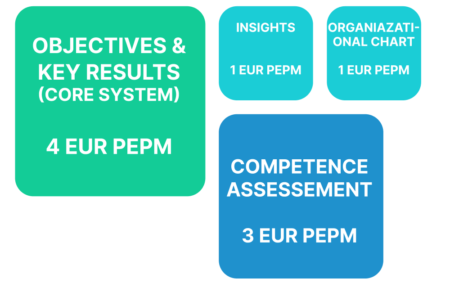 Prices do not include VAT.
Individual pricing available with volume discounts (by number of users and selected features).